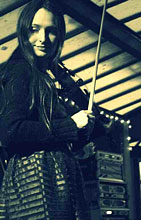 Tim and I had a brainstorm a couple of weeks ago about who we would most love to join us for the third Pedal Folk 'In Pursuit Of Spring' tour in April next year.
Hannah Martin was pretty much top of the list after we both saw her play in her duo with Phillip Henry at Sidmouth Folk Week last year. She is a superb singer, song-writer, performer and plays violin, viola and banjo amongst other instruments.
The great news is she up for it and seems pretty excited about the idea too, hurrah! She'd even heard of Edward Thomas, which shows that a) she is smart and b) she knows more than me.
For those of you who do not know of her, i suggest that you have a listen to the recording below and check out the website of her duo with Phillip Henry here – http://www.philliphenryandhannahmartin.co.uk/.